SEGA Mega Drive Mini: Endlich ist der "Kleine" da!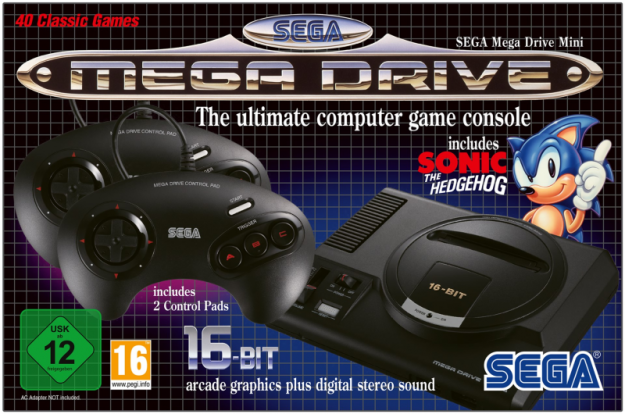 Nach anderen Classic-Konsolen in Miniform (SNES Mini, PlayStation Classic etc.), kommt jetzt der SEGA Mega Drive Mini. Ab heute könnt ihr die Konsole für 72,99 Euro käuflich erwerben.
Mit dabei ist ein ganzer Haufen Klassiker – vorinstalliert und bereit zum Spielen: 40 Mega Drive Klassiker + 2 Bonusspiele, darunter Sonic the Hedgehog; Ecco the Dolphin; Castlevania: Bloodlines; Space Harrier 2; Shining Force; Dr. Robotnik's Mean Bean Machine; ToeJam & Earl; Comix Zone; Altered Beast; Gunstar Heroes; Castle of Illusion Starring Mickey Mouse; World of Illusion Starring Mickey Mouse and Donald Duck; Thunder Force III; Super Fantasy Zone; Shinobi III; Streets of Rage 2; Earthworm Jim; Sonic the Hedgehog 2; Contra: Hard Corps; Landstalker; Mega Man: The Wily Wars; STREET FIGHTER II': SPECIAL CHAMPION EDITION; Ghouls'n Ghosts; Alex Kidd in the Enchanted Castle; Beyond Oasis; Golden Axe; Phantasy Star IV: The End of the Millennium; Sonic the Hedgehog Spinball; Vectorman; Wonder Boy in Monster World; Tetris; Darius; Road Rash II; Strider; Virtua Fighter 2; Alisia Dragoon; Kid Chameleon; Monster World IV; Eternal Champions; Columns; Dynamite Headdy und Light Crusader.
Im Lieferumfang enthalten:
– Mega-Drive-Mini-Konsole
– 2 Gamepads mit Anschlusskabel
– USB-Kabel
– HDMI-Kabel
AC Adapter ist NICHT enthalten.
Hier könnt ihr den SEGA Mega Drive Mini bei Amazon.de bestellen: https://amzn.to/313i2oM